Funding for Legal Services Corporation of Delaware
This web site was made possible by a grant from the Legal Services Corporation. The web site was developed to establish a collaborative network of information sharing for the purposes of centralizing legal information and expertise on poverty law issues in Delaware, and provide easy access to invaluable legal information including community legal education materials, court forms, volunteer lawyer opportunities and links to additional resources within Delaware. We have more information about the site in our privacy policy, terms of use and legal disclaimer.
The Legal Services Corporation Technology Initiative Grants are intended to improve access to justice and legal information through the use of technology. The Legal Services Corporation provides federal financial support to organizations that assist low-income individuals and families with legal problems. The web site grant was one of 32 grants awarded to legal services programs in the nation in the year 2002.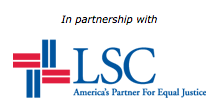 How helpful do you find the information on this page?